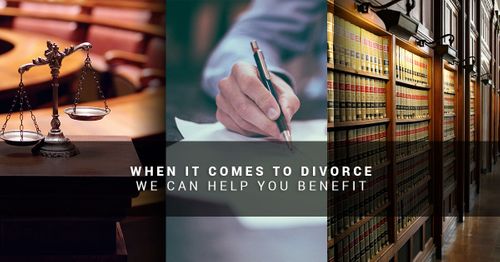 WHY HIRE A DIVORCE LAWYER?
GETTING A DIVORCE? DON'T BE TEMPTED TO FILE ON YOUR OWN.
We live in a very, do-it-yourself kind of world nowadays. Whether you're painting your house, installing a new washing machine or fixing your car, there's probably a Youtube tutorial available to walk you through it. However, when it comes to legal matters, such as divorce, you shouldn't be tempted to try to do it yourself.
While do-it-yourself divorces may be okay for a small percentage of couples, the vast majority of couples could benefit from hiring a divorce lawyer. Here are just a few of the many benefits that come with hiring a divorce lawyer:
#1. YOU'LL HAVE ACCESS TO EXPERT ADVICE.
When it comes to divorce, the laws in Colorado can be complicated, particularly when it comes to splitting assets or determining visitation, and it's all too easy to get lost in the weeds. When you hire a divorce lawyer, you'll have someone on your side who understands the ins and outs of the law in Colorado. Instead of having to rely on generic information from a Google search, you'll have access to expert advice that is specific to your situation.
#2. YOU'LL BE ABLE TO AVOID MISTAKES.
As we mentioned before, the law in Colorado isn't always straightforward, and the complications make mistakes an almost certainty if you are getting a divorce without help. The other big reason why people end up making mistakes when going through a divorce is the stress. Getting divorced is one of the most stressful situations in life; in fact, it's right up there with buying a house and losing a loved one! Hiring a divorce attorney can help you avoid making mistakes.
#3. YOU'LL BE ABLE TO AVOID DELAYS.
No couple wants to draw out the divorce process longer than necessary, but if you do it yourself, avoidable delays could be your fate. Even if you use documents provided by the court for your divorce, you may end up providing inadequate documentation or information.
Paperwork problems and other issues could cause a delay in the court's ruling, which will inevitably lead to a delay in finalizing your divorce. When you hire a divorce lawyer, he or she will ensure that all paperwork is completed properly with the necessary documentation, which will help you avoid delays.
#4. YOU'LL HAVE LESS STRESS ON YOUR PLATE.
Getting a divorce is stressful enough as it is, but when you try to do it yourself, it can be even more stressful! While it's true that you will probably need to provide your attorney with documentation and information, he or she will take care of almost all other parts of the process for you. You have enough to worry about. Let a divorce lawyer handle the legal work for you.
Although you certainly could go through with a do-it-yourself divorce, there are many benefits that come with hiring an attorney. If you are going through a divorce and looking for a family law attorney in Fort Collins, contact us at Vahrenwald, McMahill, Massey & Mitchell, LLC today!